Our Take on Current Commercial Construction Regulations
Lee Reger Builds is the commercial contractor you need for expert contracting work. We provide a span of services from commercial contracting to pre-engineered buildings. You deserve the best contractors to work for you. For more than 34 years, we have been abiding by regulations to meet your highest expectations.
Let us work with you on your next project! Read below to learn about commercial construction regulations and how we can help.
THE UNITED STATES DEPARTMENT OF LABOR OCCUPATIONAL SAFETY AND HEALTH ADMINISTRATION (OSHA) COMMERCIAL CONSTRUCTION REGULATIONS
OSHA ensures all employees work in a safe environment by enforcing higher standards. Employers expectations are to provide the following for the best service:
Training
Outreach
Education
Assistance
Employers are to follow applicable standards with the General Duty Clause of the OSHA Act. These need employers to keep their workplace free of serious recognized hazards.
OSHA's definition of construction work involves work for construction, alteration, or repair. This also includes painting and decorating. Its standards apply to every employment and place involved in construction work.
Additionally, the state of West Virginia demands all builders abide by building codes.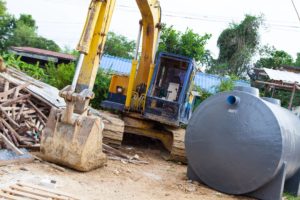 IRC 2015- R105.1– Any owner or authorized agent who intends to construct, enlarge, alter, repair, move, demolish or change the occupancy of a building or structure, or to erect, install, enlarge, alter, repair, remove, convert or place any electrical, gas, mechanical or plumbing system, the installation of which is regulated by this code, or to cause any such work to be performed, shall first make application to the building official and obtain the required permit.
The permit process requests the following to begin work:
Building
Mechanical
Electrical
Plumbing
We submit engineering and architectural plans to the West Virginia State Fire Commission. All forms get reviewed for the following:
Fire Alarm Systems
Above Ground Storage Tanks
Carpet
Architectural
Hood Systems
Sprinkler Systems
Clean Agent System
Plan Review Fee Schedule
Requirements for Various Reviews of the WVSFMO
Variance Application
State Fire Code
State Building Code
WHAT LEE REGER BUILDS THINKS ABOUT COMMERCIAL CONSTRUCTION REGULATIONS
We guarantee that your design is up to code and fulfills all regulations. Don't worry – we work within your budget too. View our process below:
Planning Phase: We view the practicability of your building and provide a visual representation. Then, our team works with you to set a workable timeline.
Pre-construction Phase: We draw up materials and labor lists with a budget analysis. Understanding the details of your budget will allow for more timely decisions.
Aligned with OSHA standards, the amount of time and material for a project is invaluable. We provide our clients with top-quality products and manufacturers. Our team manages clients with low operating costs to make it as simple as possible.
"Lee Reger Builds did an excellent job of submitting engineering plans to start with. They can provide engineering as well as construct the building so you don't have to hire an architect. Before you even start the construction, you have to submit the designs to the West Virginia State Fire Marshal. The letter they sent us approving the plans was sent with a note that said: "it's one of the better plans we've received in a long time." – Wes
Take a look at more of what Wes had to say about our team below:
From engineering and architectural plans for the West Virginia State Fire Commission to OSHA standards, we create the perfect space for your business that remains up-to-code without question or hesitation.
COMMERCIAL CONSTRUCTION | LEE REGER BUILDS
Lee Reger Builds understands planning for any commercial facility can be extensive. Our team aims to make it as simplified and stress-free to the best of our ability. We are a design-build commercial contractor with you, our client, being our priority.
Now is the time to start your next project. Contact us today to get your project started: 304-592-2083