Quality Is Ensured When We Build Commercial Construction Projects
Lee Reger Builds, Inc. (LRB) provides our clients with the utmost quality they deserve in their commercial construction project, as we are a proud North Central West Virginia premier commercial contractor who specializes in pre-engineered buildings. Not only do we construct pre-engineered buildings, but we also develop a wide range of conventional and masonry structures.
Find out how we work hard to ensure you are getting the excellence you deserve. 
THE QUALITY YOU WANT IN A COMMERCIAL CONSTRUCTION PROJECT
Do you know what you should look for in a commercial contractor? Hopefully, a reliable company that is client-focused, works on a reputable timeline, holds up to company convictions and relays open communication. There are many characteristics you can look for when searching for the right handyman with your project. That's why it's essential to at least consider trust and communication as two valuable assets when making a choice. 
LRB Standards We Uphold To Our Clients 
Our company has been in business for over 35 years, and it was built and founded on old fashioned principals. First and foremost, our main priority is you – the client. Take a look at more of the higher standards we abide by: 
Primary focus on client satisfaction.

With our clients, our primary focus is to ensure complete satisfaction. We build structures that meet their unique needs. We offer flexible design options with all products and services for our client's fundamental goals. 

Use top-quality products and manufacturers.

We utilize various components and systems from the top name manufacturers, such as A&S Building Systems, American Buildings and Lester Building Systems. 

We test our structures and prove to maintain quality work.

Additionally, all of our systems are thoroughly tested for safety and durability.

Affordable and quality help.

We assist clients in maintaining lower operating and maintenance costs. Even so, we still accumulate a permanent structure or system with an attractive appearance both inside and out. 

Excellent work finished promptly.

In addition to making sure our clients save money on future maintenance expenses and offering flexible design options, our systems can be erected in less time than most traditional structures, which allow for faster occupancy. 

Attentive to our clients' wants and needs.

At LRB, we do listen to your needs, and we'd like to hear from you. 
COMMERCIAL CONTRACTING AT LEE REGER BUILDS
At LRB, we strive to complete the commercial contracting process as simplistically as possible for you. We understand it can be long and confusing; however, we assure you that with our team, we'll make the process stress-free and timely for your convenience. 
The general commercial construction timeline we follow consists of the following:
Planning
Design-build and pre-construction
Procurement
Construction
Post-construction 
Sixty-nine percent of owners claim that shoddy contracting work is the most influential speculation for a project to underperform, according to KPMG International. Fortunately, our team commits to building long-lasting, quality structures with quick proficiency just for you and your goals. 
As mentioned, we help our clients save money on future maintenance expenses while providing flexible design options. Our products are developed in less time than traditional structures. As a result, this allows for faster occupancy. 
Download Our Commercial Contracting Guidebook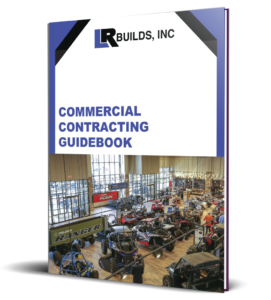 For more information on our commercial construction contracting process and details, click the image to download our FREE guidebook. Learn more about commercial construction loans, our proposal process and various projects we've completed. 
SUCCESSFUL PROJECTS FROM OUR TEAM
Specializing in pre-engineered buildings and turnkey projects, we serve projects from agricultural buildings to commercial and industrial buildings in six different states. Our team has completed over 2,000 projects in the following industries:
Agricultural
Commercial 
Industrial 
We had the opportunity to work on what we called the Camp Mountaineer Project. See details below:
Building Size: 2,400 sq. ft.
Features: Offices, restrooms, snack bar, retail area, and storage area  
Project Timeline: Approx. Four months of construction (6 months of drawings/Fire Marshall approval)
"We wanted a multi-purpose building, but that mainly served as a trading post for the kids. Lee Reger Builds did an excellent job of submitting engineering plans to start with. They can provide engineering as well as construct the building, so you don't have to hire an architect," said Wes Metheney, attorney, and Chair of the Long Range Planning and Construction Committee. 

Metheney continues, "I like a contractor that can build something that I see. And Lee Reger Builds can see things as I see them. The Trading Post looks exactly like I thought it was going to look. We knew when they handed us the keys; the building was ready to use."

Another project our team is proud of is the construction of the PARCS Superstore. The details of this project involve:
Building Size: 23,000 – 24,000 sq. ft. 
Project Timeline: 10 months for construction, 12 months with drawings/ Fire Marshall approval
"Lee Reger Builds has always been a reputable company. Every single project that I have had with Lee Reger Builds; they have stuck to a budget," said Chris Sander. 

"Usually, when a question regarding details comes to me, I have to stop my day. With Lee Reger Builds, there is a solution involved in the question."
WE ENSURE QUALITY FOR YOUR COMMERCIAL CONSTRUCTION PROJECT 
LRB began as a post-frame building contractor in 1985. Since then, we have evolved as a leading company in the industry for design-build commercial contracting. Our team guarantees you will see lasting results of the quality of our work. 
Let's talk about what we can build together, call us today: (304) 592-2083