Now Is The Time To Start Planning A Spring Build
As winter comes our way, we start to plan and prepare for the holidays and also to stay warm as temperatures drop. Do you have a commercial building idea, but you don't want to start it until winter ends? We feel like now IS the time for you to begin the commercial building process – just in time for Spring.
Continue reading to find out how and why you should get started for your Spring build project with Lee Reger Builds, Inc. (LRB).  
HOW WEATHER PLAYS A ROLE IN COMMERCIAL CONSTRUCTION
We aren't saying that you should begin construction during the cold months, but you should start planning out your project. With winter and its unpredictable weather, it increases costs and slows productivity. 
Other factors like loss of power, consistent removal of snow, installation of various elements into the building wouldn't play out well during winter. 
Now springtime is a different story. Below are benefits to beginning construction during spring:
Good, predictable weather. It's not too hot or too cold outside, so the project has minimal outdoor factors to slow progress.
Longer days, meaning we have more hours to work on your project.
You are beating the rush of other building projects. Many aim to start their planning later rather than sooner, so summer is a busy time of year for builders

. 
WHY YOU SHOULD START PLANNING NOW (DURING THE COLDER MONTHS) FOR YOUR SPRING BUILD
We believe that while it's harder to break ground right now with the colder temperatures outside, it is better to start the planning process. This way, you can get your commercial building started by springtime.
The LRB Planning Process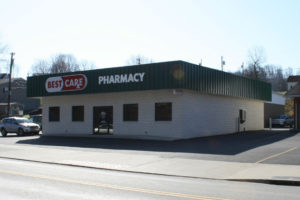 Step One: Find land for your property. 
Step Two: Site analysis, geotechnical report and more. Your commercial contractor will recommend a site analysis, geotechnical report and cost analysis of the project. 
Site Analysis

– Allows your contractor to understand how the building should be designed and constraints on the project if any. 

Geotechnical Report

– With this report, your contractor can fully grasp how to prepare the site, depending if there is ground or surface water. They will know how to appropriately manage it, along with the additional requirements needed for your project. 
Step Three: Connect the contractor and engineer who are working together on your project. This step is optional. If you already have an engineer who is working with you, you should get them and your contractor together for a meeting. Maintain and foster an open line of communication between the engineer and contractor is beneficial for your project.
However, if your project does not have a set engineer, our experienced team at LRB, is more than happy to assist with designing your building. 
Fortunately, LRB is a design-build commercial contractor who's on your side to make this project exceed your expectations. 
COMMERCIAL CONSTRUCTION | LEE REGER BUILDS
We suggest getting ahead of the game and to start your planning process this winter. We can plan now to break ground when spring hits, to meet your goals. 
LRB is built on old fashioned principals to create top-quality structures, systems and services for our clients. Our primary focus is set on our clients and to ensure their complete satisfaction. We want to help you build a structure that meets all of your needs and aspirations. 
Reach out to us today to get started on your next project by calling (304) 592-2083 or clicking here.