Expanding a Commercial Building: Bad Lizard Granite & Quartz
Bad Lizard Granite and Quartz were looking to expand their commercial building and called us for help.
Lee Reger Builds (LRB) completes all projects with our old-fashioned principles. Through those principles, we ensure:
Complete client satisfaction
Flexible design options
Top-name manufacturers
Safety and durability-tested structures
Low ongoing operating maintenance costs
Find out how we applied our company's core principles by expanding a commercial building for a successful client project with Bad Lizard Granite & Quartz.
THE PROBLEM BAD LIZARD FACED
During the fall of 2017, Bad Lizard needed to expand its building's footprint and make room for new equipment. The equipment was to take up roughly 800 to 900 square feet. Together, John Kissella, co-owner of Lee Reger Builds (LRB) and Johnnie Rominger and Trevor Flanagan, owners of Bad Lizard, and a few engineers stood behind the Bad Lizard building to figure out where it could grow and how to do it.
Bad Lizard's original building wasn't built for add-ons, and it was 100 by 60 feet. The 60 feet needed to be expanded by another 20 feet. The walls and doors supported the sides, and they had to engineer a way for the new building to hold up the old building that provided full width and access to cranes.
"We had to put in a main support beam to hold up the new building and to hold up the old building so that they are actually tied up together," explained Johnnie.
The structure on one side of the building created a square outline. That square outline didn't match the old building.
"So, we basically had to do a square angle on the old building and carry the entire 100-foot length to make a match. We did that because that is the side that faces the street. So that if you're a customer pulling in or if you're just a casual observer, we didn't want it to look like two buildings meshed together, we wanted it to look like one solid building," Johnnie said.
"When we ordered our equipment, [the equipment] had to be built. It got finished a little bit sooner, so we took delivery of it earlier than expected. As my walls and roof were being enclosed on the new building and people were scaffolding, we were bringing in equipment. We were moving into the building and working underneath the guys that were still finishing up that expansion."
Although it wasn't easy, the team made sure that from the beginning, their building goals were obtainable.
THE LEE REGER BUILDS SOLUTION | EXPANDING A COMMERCIAL BUILDING
"My building is a complete steel structure; it doesn't just hold itself up. It holds up my entire old building. Lee Reger Builds demonstrated right there the capabilities they can do," said Johnnie.
John and Sheldon listen to our client's needs and follow-through with all of our agreed-upon promises. We are committed to building our clients' quality structures that last a lifetime.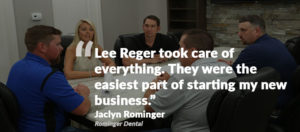 "I have dealt with enough contractors and subcontractors to know that the one thing that I do not want to do is babysit. Because if I have to babysit you, then I might as well just do it myself. With LRB, there is no babysitting. They do what they say they're going to do, with the timeframe that they say they're going to do it, for the budget they say they're going to do it under."
Our team at LRB made sure to get the significant details out of the way before we broke ground on Bad Lizard's expansion project.
"There was a lot of going back and forth and a lot of test digging being done; working with John and Sheldon made it easy," said Johnnie.
Our team partook in regular calls to keep Bad Lizard up-to-date with our progress. Open communication is invaluable when undergoing client projects. We made sure to get everything completed on time – big and small.
"Besides the minor details that they might call us about, basically every day, you would see them come out, you could see them get the work done, you see the progress happen, and you can just step back and watch it unfold," Johnnie said, "And to me, that is priceless because I really value my time – my time for work, my time at home."
RESULTS OF THE BAD LIZARD COMMERCIAL CONSTRUCTION PROJECT
Bad Lizard required more room as the business expanded in a short period of time. LRB was able to deliver that.
"Otherwise, we would've been in a lot of trouble. We would have not had the space we needed just to function, just to keep our factory moving with the product. When that got finished, and we were able to fully 100 percent use that space, it was a major weight off of my shoulders because it allowed my business to basically grow at the pace that we needed," Johnnie said.
"We were very happy with the completed product with LRB. It allowed my business to grow. They really instill confidence in you, the customer, that you're in good hands."
During the time of Bad Lizard's expansion, Johnnie's wife, Jaclyn, was beginning the construction of her dental office. "I was pretty nervous on how much time I'd have to spend with [Jaclyn's] building process," said Johnnie. "Now that it's all said and done, I am amazed at how little bit of time I had to spend on [Jaclyn's project]. John worked hand-in-hand with my wife on that process and basically eliminated the need for me. Which was perfect because I had my own things going on."
COMMERCIAL CONSTRUCTION | LEE REGER BUILDS
"They are very, very knowledgeable. LRB has been around for a long time. John and Sheldon have been doing what they do for a very long time. There's not a lot that they haven't seen," Johnnie continued.
"People can go to school and graduate and say they're a contractor. But, good contractors come with a lot of experience. It's when things start going wrong, which they tend to do, that good contractors know how to solve those problems and keep the project moving. And that's what LRB does."
Let's talk about what we can build together: 304-592-2083