The Differences Between Commercial and Residential Construction
Are you interested in building a new home, or designing an office space? Do you know which type of contractor to contact for your specific project? There's a difference between commercial and residential construction projects. 
Lee Reger Builds (LRB) is a commercial contractor that specializes in pre-engineered buildings and turnkey projects from agricultural buildings to commercial and industrial buildings. 
Learn the differences between residential and commercial construction, along with how LRB can assist you with your next commercial construction project. 
COMMERCIAL AND RESIDENTIAL CONSTRUCTION
Residential Construction
Residential construction is the building process of a single-family or multi-family dwelling with intentions to be used. A home builder:
Buys a piece of land
Develops the property by clearing and grading it
Constructs roads, sidewalks, drainage, waste removal, electrical and water supplies
Creates custom homes or pre-designed homes, depending on the clientele
While homes are under construction, the builder needs a ready amount of the following:
Developed land
An available skilled crew
Reliable suppliers
Quality materials
Working capital for labor costs, supplies and living expenses
Successful homebuilders balance multiple construction crews to ensure optimum productivity with each project. For example, at any given time, three to six homes will be under construction. 
However, a residential contractor can be unable to maintain a level of busyness for their crews. As a result, they are forced to spend time coordinating unreliable independent teams to complete the project with hopes of it being on time. Frequently, this delays plans and causes costs to increase as a result of overtime along with an overall delay of project completion.
Financing for residential construction can also be a stressor. The housing industry's interest rates fluctuate from time to time. Additionally, so does a lender's willingness to provide the interim financing that a builder needs to stay in business. 
Commercial Construction
Commercial construction is the business of building manufacturing plants, medical centers, retail shopping centers, office spaces and more commercialized structures. Commercial builders develop contracts with an organization to begin building.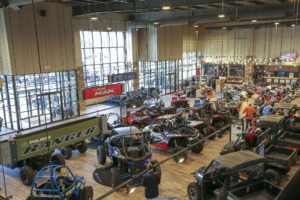 Business industry cycles and population growth help drive the construction of a commercial building. There is a higher demand for existing businesses, and workspaces to grow as an area becomes more populated. During this time, new construction is also requested to provide the appropriate amount of space for workers and potential customers. 
In today's commercial construction environment, many builders specialize in a single retail market. Some specialize in high-rise buildings; others hone their expertise in providing massive infrastructure facilities like water treatment plants or dams. 
LRB works in many spaces and helps many business owners, including:
Builders who can maintain a consistent stream of projects under construction are considered to be more successful in this industry. With more projects working simultaneously, there is more predictability in the quality and availability of the needed labor. It also means that discounts are obtainable from suppliers who learn that they can count on a specific business. 
Similarly, banks prefer to work with builders who are predictable when it comes to making payments routinely. Banks or financial institutions are more willing to extend credit when needed. The builder can plan for delays in their plans and schedules. 
Customer expectations are also well-managed from top-notch builders. Setting unrealistic expectations for completion, including a poorly scheduled construction timeline, can result in negative consequences for both the buyer and builder on the project. 
The quality of the commercial contractor is recommended to be taken seriously. When a project is done right the first time, you don't have to take money out of their profit to fix mistakes. Choose a builder who you can trust to get the job done right. 
In the final analysis, the commercial builder must become a great communicator: needing to keep everyone up-to-date on the project status including, workers, sub-contractors, customers, banks and building inspectors.
LRB builds commercial construction from planning to execution. Our experienced team creates the perfect space for your business. 
COMMERCIAL CONSTRUCTION WITH LEE REGER BUILDS
Planning to build a new commercial facility can be a long and possibly confusing process, especially if it's your first time. At LRB, we want to make the process stress-free and get the project finished as timely as possible on a budget.
As a design-build commercial contractor, we specialize in pre-engineered buildings and turnkey projects from agricultural buildings to commercial and industrial buildings. Our team has over 30 years of experience, and we are committed to building quality structures for you.
Contact us today to begin your commercial construction project with a trusted team of experts: 304-592-2083