Floor Plan: Your Ultimate Guide to Creating the Perfect Commercial Space
A growing population means there is a need for more buildings. With more buildings comes the changing needs and wants of clients and initially developing a well-put-together floor plan as a strong foundation for the commercial structure. 
According to the Commercial Buildings Energy Consumption Survey (CBECS), in the United States, the number of commercial buildings has increased from 3.8 million to 5.6 million, and the amount of commercial floor space has also increased from 51 billion to 87 billion square feet.
Floor plans speak volumes to the atmosphere and environment you create for your business's work culture. There are many, many aspects to consider before making the big decision to design a plan from future aspirations, how many rooms, styles and more. 
Continue reading for recommendations from our elite professionals on how to create the perfect floor plan for your commercial space. 
FLOOR PLANS – WHY ARE THEY IMPORTANT?
Floor plans are a drawing that is designed to scale, which details the relationship between rooms, spaces, furniture and other physical features from an aerial view. It helps clients obtain a better idea of how specific details can be arranged to fit business operation goals best. 
A solid floor plan helps the owner see what their building is going to look like and make sure everything is going to flow correctly. The floor plan should reflect the specific purposes of the business.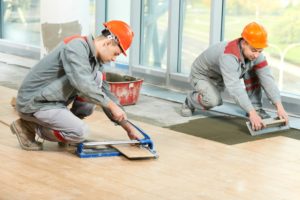 You'll need a well-organized floor plan process for your commercial space. It not only promotes productivity, but well-planned spaces increase employee retention and will suit your business's personalized, ever-changing needs. 
If a floor plan is poorly planned out or assembled, it can be expensive to fix the damages and use up essential resources to create a safe and meaningful foundation for your building. 
GUIDE TO CREATING THE PERFECT FLOOR-PLAN FOR COMMERCIAL SPACE
First, think about where your business is going to be in 3-5-10 years.

Contemplate how both employees and clients will use space.

Determine your future needs and how to accomplish your construction-based goals.

What designs and resources will be needed for this construction plan? Do you want open space or a layout with private cubicles for your employees? What operational goals do you want to achieve with this space? 

Next, after talking with the owner and finding out their needs along with the number of people who will be in the building, the development process of the floor plan begins.
The shape of the property, then the size and contour of the land, all play crucial roles when building a space.

These factors ultimately affect the floor plan. 

A floor plan is based on the business, first and foremost.

For example, a dental office will not have the same floor plan as a tractor dealership.

We suggest creating a balance between both private and open spaces to provide different options for productivity with benefits from both types of layouts.

Open floor plan

– Low-walled cubicles, if any, with collaborative areas and conference spaces with glass walls. Benefits include reduced real estate costs; the layout can be easily modified, promotes employee collaboration. 

Closed floor plan

– Private conference rooms, cubicles with private office spaces along exterior walls for each to have a window. Benefits include: increased privacy, limited noise, and minimize distractions, enhance employee concentration. 

All floor plans encompass similar components like utility rooms, offices, restrooms, etc.

; however, it is customized to the specific client and their needs. 

The finishes of the building determine the cost.

You can have the same floor plan and cost be entirely different.
FLOOR PLAN DEVELOPMENT | LEE REGER BUILDS (LRB)
All floor plans are custom to fit the client's needs. As your business continues to evolve, your floor plan amongst the rest of the building should reflect the perceived growth you will have in the future. You can trust that LRB helps you build a space that reflects your needs and goals. 
Give us a call today to get started on your personalized floor plan: 304-592-2083.